How to Start Homeschooling Today When You Feel Overwhelmed
If you are just looking into how to start homeschooling, you are in the right place to find direction, the questions you didn't know you needed to ask and more! Learn from those who have gone before you, and make it easy to homeschool with confidence this next school year.
Here is the outline for how to start homeschooling today for beginners that are overwhelmed with information paralysis.
Let's explore the path to homeschooling for today in an easy format, so you can have step-by-step plan. Rest assured that compliances are meet with basic state requirements, along with a checklist of what you, the teacher, need to accomplish to stay on track through the year.
Start homeschooling today with a solid overview
Know your why
Are you a parent or guardian?
Submit a declaration of intent to your local board of education
See if your state requires attendance sheets
Select a curriculum
Plan your school year
Track your progress in 9 week intervals
Complete a year end evaluation for your records
Know your why before you start homeschooling today
The best way to set yourself up for failure is to proceed without a plan, just blindly going where you think you need to. Homeschooling today does not mean pulling your kids out of public or private school, sticking them in front of a virtual teacher and calling it good. Homeschooling does NOT mean a hands-off approach when it comes to your children. As the parent/teacher you are still responsible for their education, just as you were before homeschooling. You will still need to be there to monitor and track their progress. Yes, there are many programs that help take the load off of lesson planning, or grading, but you are still needed to be present for learning accountability. As many parents learned in the 2020/2021 school year, virtual learning is not an easy task, and many students fell behind because parents were working from home, and assumed they could leave their kids to the teacher on the screen. Homeschooling for the 2021/2022 and beyond school years are evolving for the better, breaking barriers that homeschooling is either for the free-spirited or the christian minded. While both reasons are plausible, homeschooling is about far more than just freedom. Homeschooling is about doing what your child needs by giving them the best environment, academics, electives and support based on their individual needs. Knowing the why behind your interest in homeschooling is the most critical thing you need to address. Because when times get hard (and they will) you need the why to be deep rooted, ensuring longevity and success in your homeschool journey.
The first step in taking action:
Take a momen to grab a pen and paper to start a homeschool portfolio. The first page needs to have your why, mission statement or core beliefs. Just as new businesses construct a business plan, you will doing the same thing using this online below.
Our homeschooling why
Our mission statement for homeschooling
Our top three core beliefs
Christianbook.com Home
Are you the parent or guardian to the prospective homeschool student?
While you're not required to have a teaching degree to homeschool, you are required to be the parent guardian or grandparent in some states of the student in order to conduct a home education program. If you need more on the legal aspect of what constitutes guardian you can find more on The homeschool legal defenses website here.
Next, submit your declaration of intent
The board of education for your country has a section for homeschoolers to submit a document stating their intention to homeschool their kids. If you are homeschooling from kindergarten and up this process is pretty seemless and will only require your address, kids name and grades.
If you are pulling kids out of school, you have to also submit withdrawal paperwork to your kids school.
Here's how to find the homeschool declaration of intent for the state of Georgia as an example.
Check with your States board of education requirements
Some States can be stricter than others for example the state of Georgia does not require the submission of attendance sheets, while South Carolina does. Before you start, you can find your state requirements at websites like the department of education for your state.
Here's an example of Georgia's Department of Education's website to file the declaration of intent – Georgia
The best way to select a curriculum that fits requires you to be honest with your needs and available time
The board of education or department of education for your state will have a scope and sequence, which means is the required areas the curriculum you teach will cover. Homeschool curriculum can be divided into accredited and unaccredited programs. You do not have to have an accredited program, so long as you compare the scope and sequence for the grade to your state's requirements. The difference between accredited and unaccredited homeschool programs is that one is validated by an outside evaluation system that validates the program meets all standards. However homeschool programs are not subject to accreditation requirements unless operating under an academy title. Unaccredited does not mean your child won't learn everything they need to. It's just a way for programs to offer a more budget-friendly curriculum, while protecting themselves from legal responsibility. Unaccredited programs say in their introduction or preface that it is ultimately up to the parent to make sure this program meets their stage requirements. When you choose a program you are operating under the understanding that you are doing all the work as the parent and teacher. This is a job normally the board of education and School board would undergo before instilling a new program into their school system. You're simply doing it for yourself and your household.
Before you convince yourself you have no idea what the requirements are rest assured with these seven homeschool company that you'll ever need.
Plan your school year for success
As a homeschool parent, teacher, principal and lunch lady you are also responsible for making the plan to implement the school year. There are tons of apps, planners and programs that do all the work for you. there are options for complete hands off or complete hands-on. It really just depends on how much time you have to commit to lesson preparation and planning. For example, online programs like time for learning will let you select your school year start date and end date. It will also allow you to plan for vacations and generate a academic plan accordingly. But it also gives an option for parents to set how many lessons they want their student to complete daily.
Public School teachers can take anywhere from 1 hour to several hours a week in lesson preparation by printing off, cutting and gathering supplies for their classroom. The same can be true for homeschool teacher, especially in the elementary years. The biggest hurdle homeschool moms in the past has relayed is there lack of emphasis on lesson planning which led to a lot of students sitting during the lesson. This down time breaks students concentration and can set back the lesson learning process because now you have to review again once you are ready with the worksheets and supplies. To give a seamless homeschool classroom experience you need to realize planning is everything. Without a plan you are aiming at nothing. With a plan you at least know the direction that you're going to be heading into. Now before we say too much more there is a difference between planning every second of your day and getting frustrated when you fall off the time frames, and a routine. You can read more on schedules versus routines so that you can find a happy balance that fits your needs here.
Your planning must haves need to include
180 days of school
4.5 hours of school a day – not the 7-8 in public schools
A weekly or bi-weekly time to gather materials and supplies or print off in enrichment worksheets
A set time for tracking attendance
A homeschool teacher of 25 plus years gives this advice:
The power of tracking your progress in 9 week sprints with homescool progress reports
Homeschool progress reports is another way for saying report cards. The public school system knows the value of issuing a academic report to students so they can see the areas that need improvement and where they are excelling. This is an amazing confidence booster not just for students but also for the teacher. As a homeschool teacher you are going to have days where you feel you're not making any ground and a nine week progress report or evaluation is just as important for your students as it is for you. Daily lessons can feel simple and easy, making you think it's too easy. But a nine week progress report will show you how far you've come in such a short amount of time. After all the best way to eat an elephant is once bite at a time.
What your 9 week progress report should include
Struggles your student overcame personally
The difference in attitude or lack of difference
Overall grade for each subject
Areas that need improvement with notes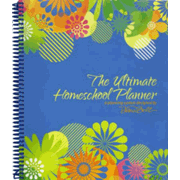 The Ultimate Homeschool Planner (Blue Cover)
By Debra Bell / Apologia Educational Ministries


Designed for the busy homeschooling mother, bring order—and less frustration—into your life with Apologia's Ultimate Homeschool Planner. A user's guide will help you set everything up; a one-year planning grid, student goal setter, resource lists, monthly planners, weekly planner, teaching tips, field trip logs, tips, and a high school planning guide are all provided.
Weekly plans provide room to write in your Bible plan, battle plan, prayers, hospitality/outreach efforts, memorable moments, achievements, and evidences of grace. Schedule pages may be filled in as you see fit—both the vertical axis and horizontal axis are blank for you to fill in days and subjects as you prefer. Boxes along the facing page include room for notes, supplies, and appointments. The plastic covers include folder pockets on the inside for handy storage. Spiral bound.
The importance of a year-end evaluation and report for your homeschool year
Similar to the nine week progress report, the year-end evaluation is a little bit wider set for the goals you set at the beginning of the year. This should be whether your kids completed the workbook or program what their favorite subjects are and if they overcame any obstacles. For example if your student was struggling with math but kept with it and ended up completing their grade and then some in the next grade up it's worth noting in your year-end evaluation. If your student submitted a 4-H program for science and placed in first or second it's worth noting in your year-end evaluation. While it might not seem important since the state does not require evaluation's, especially in the elementary, you will thank yourself for being in the practice and routine once your child is in high school. Making a high school transcript is a very big ordeal and can be 100 times easier with your year-end evaluations. It will include the grades, subjects, extracurricular activities all in one place so you can make the high school transcript alongside the year-end evaluation.
Here's a some words of wisdom from a high school student that graduated 2 years early
Your homeschool end of your evaluations should include:
Overall grades for each subject
Extracurricular activities like 4-H, dance or sports
Student performances – what they overcame
Areas the student exceeded or fell behind in
A student profile – what they want to be when they grow up, what goals they're working towards, their favorite subject,
A log of field trips
Books read
Projects or presentations- with a copy in hand
Making the leap to start homeschooling today is both invigorating and intimidating. But when you have a outline to go by your setting yourself up for success.
Having a compass to point you in the right direction is what homeschooling for today is all about. Using the outline provided below you can start a homeschool journey whether you have an educational background or are working as a stay-at-home mom to provide the best option available for your children. Be inspired and know that your little ones were given to you to protect, educate and rear into productive adults that society will be grateful to have.
Christianbook.com Home